Vivid Sydney 2018 - 1000 Cranes
May 19, 2018

1000 Cranes is inspired by an ancient Japanese legend: if a group of 1000 origami cranes (known in Japanese as senbazuru) are hung in one's home it will act as a powerful and benevolent charm and bring good luck.
The senbazuru legend found new and poignant relevance in Japan through the actions of a young girl tragically affected by the atomic bombing of Hiroshima in 1945. Sadako Sasaki was exposed to dangerous levels of radiation from the bombing and by age 12 had developed leukaemia. After months in hospital, Sadako-san was inspired to begin the intricate process of folding 1000 origami cranes.
She became too weak to finish the project but after her death, her classmates completed the senbazuru in her honour. Influenced by her story the practice of senbazuru grew in popularity throughout Japan.
Background
Vivid Sydney is an annual festival of light, music and ideas, held in Sydney. It includes outdoor immersive light installations and projections, performances by local and international musicians, and an ideas exchange forum featuring public talks and debates with leading creative thinkers.
I was lucky enough to work with a group of talented artists and enigeers to put this beautiful install together in a matter of weeks before the event. This time around, I did it remotely from New York City.
This year, we took James Rotanson's vision of the senbazuru legend and realise that into a lit up canopy for Sydney-siders and visitors to get walk under as they check out the event.
This was his original render:
Software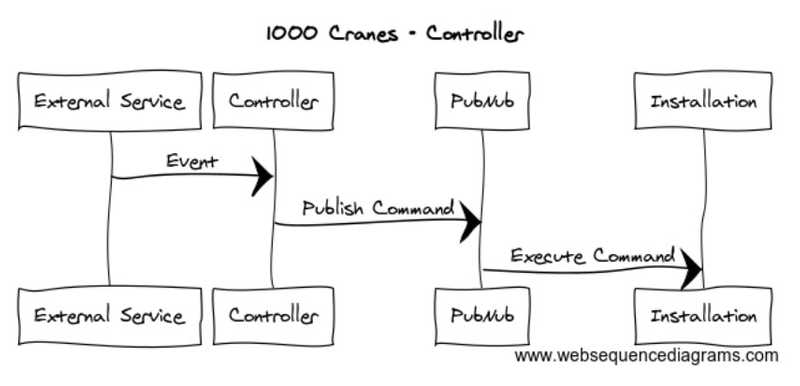 So despite my electrical engineering background, I mostly do software these days. My role on this team was to build the software for the installation to control the individual cranes and convert processing.js animations into lighting sequences.
The computer inside the installation subscribes to a PubNub channel for control event. The controller service was in charge of all incoming and outgoing events from other services.
Motion
The event organisers wanted the installation to be interactive locally in some way, so we chucked on a few motion sensors and make the cranes light up over sections with motion.
Twitter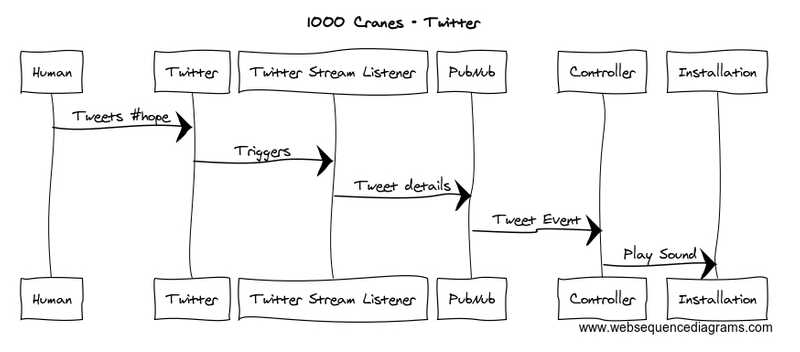 A last minute requirement for the installation was that it needed to respond to Tweets with tagged with #hope. So we added some speakers to the installation and then played bell sounds when we detected a Tweet with the hashtag.
Scheduling and Monitoring
I also built a scheduling and monitoring service for the installation. This consisted of a private web application that allowed us to monitor and control the installation remotely and cron jobs to turn the installation on at 5:45pm and off at 11pm.
Tools and Services
Trello to manage and keep the team on up to date with all aspects of the project (budgeting, deadlines, sponsorships, software development progress, designs and specs, etc.)
Facebook Messenger for casual and serious text chat on day-to-day, and video calls for weekly catch-up meetings.
GitHub to host the code repositories for the lighting software and animations.
Processing.js to do the animations you see on the cranes.
Twitter API Stream to track the #hope tweets.
Digital Ocean to host the scheduling jobs and Twitter API Stream.
AWS S3 to host the display and admin clients. This was the cheapest solution.
PubNub on the free tier to control the installation remotely (on, off, animations and sound) but also to fire events to the installation when Twitter things happen.
Thoughts
It was a stressful project. I don't think I handled some situation with the team well and I probably let the project affect my work life balance. 😢
But it was super cool to see our hard work light up when the night I landed in Sydney a few days before the festival to help setup the installation. It was very cooler to see massive crowds appreciating our work and tens of thousands Instagram posts of it.