A gaijin's guide to Fuji Rock Festival
July 04, 2018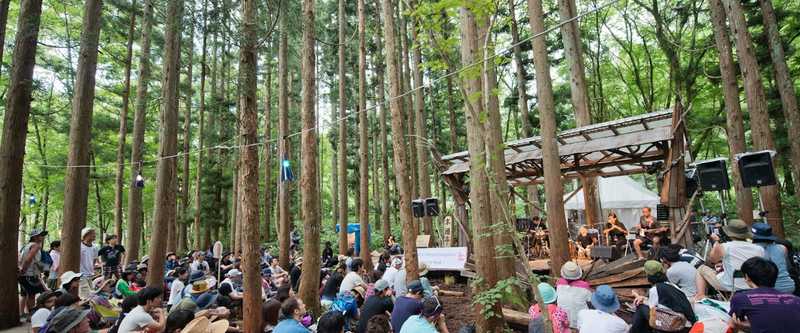 Fuji Rock Festival or just Fuji Rock, is a three day music festival held in Naeba Ski Resort, in Niigata Prefecture, Japan. It's called Fuji Rock because it was originally held at the base of Mt. Fuji but they moved it after a year.
The lineups are always amazingly diverse in both nationality and genre. You could moshing to Baby Metal at the White Stage then running over to the Green Stage to rock it out to the Red Hot Chili Peppers and then heading to the Crystal Palace to end your night with drinks and some jazz in the early AMs.
I have been to the festival four times and will be going again in a few weeks. It was my first music festival and the only festival I have returned to year after year.
This guide is for myself to plan my trip but I hope it helps potential or first time Fuji Rockers. 🤘
🗣 Language — 日本語がわかりません
Do you need to be able to speak Japanese to enjoy the festival?
Nah. Japan is a very English-friendly country and Fuji Rock is no different. Signage and menus have English on them and some of the staff will know enough English to help you with your problems.
If you get caught in a situation where neither of you can communicate, just smile and dance. In the case of an emergency ask someone around you to translate. Google Translate works too.
This being said, I would recommend learning some of the basic Japanese words and phrases for your trip to Japan. It's always good to embrace the language and culture of the place you're in.
🎟 How to buy tickets?
The general admission and camp site ticket costs about 50,000 yen (which is about $450 USD). You can get them for cheaper if buy the early bird tickets which usually open up a few months before the general tickets are sold.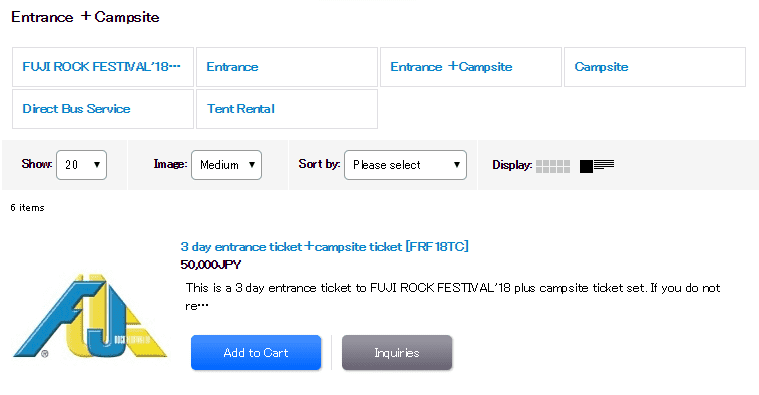 I buy my tickets from the GAN-BAN site using Paypal. This has always been the easiest and consistent way for me but I think there are now ticketing sites like viagogo that also sell them.
Once you've checked out and paid for the tickets, a representative will email you with a confirmation letter (PDF) with instructions on how to pick your ticket at the festival site. Print this out and take it with you to the festival site.
You can pick up your wristbands at the GAN-BAN tent at the entrance of festival site by showing your passport and your confirmation letter.
✈ Planning your trip to Japan
So once you've got your tickets, you need to get yourself to Japan. Don't stress about where you should fly into since you can get to the festival from almost anywhere in Japan by Shinkansen (bullet train). If you've got the time and money, you should totally plan a proper Japan trip for the dates before or after the festival.
If you're just going for Fuji Rock, then try to get to Japan at least 2 days before the festival. This will give you enough time to buy your camping gear and supplies but also to rest up and adjust to the timezone.
I also like to rent a Pocket Wifi or sim card which I can pick up at the airport post office when I land. I usually book one online from Global Advanced Communications.
If you're going to Japan for an extended period of time, you should also consider getting a JR Pass.
🛒 What to pack and buy?
Now this is just my packing and shopping list for the trip. You don't need to get everything and if you forget anything, don't stress as you can buy pretty much everything you need at the festival's general store.
Packing List:
💵 Cash. I usually bring about 70,000 yen but never spend it all. There's no ATM so it's better to bring too much than not enough.
🛂 GAN-BAN ticket confirmation email and passport.
👞 Comfortable and waterproof footwear. You're going to be standing, dancing, jumping, hiking and walking for 4 days. It could rain and get really muddy. I usually rotate between sneakers, hiking boots and Keen sandals depending on the weather.
👒 A cool hat. Look good, block the sun.
🕶 Sunglasses. Look good. No squinting.
🧥 Waterproof jacket and/or poncho. It gets quite cold at night time, remember that you're going to be in the mountains.
😅 Towels. Big one for bathing and small one for wipe off sweat during the day.
🔋 Portable Battery Packs. You're gonna want to charge your devices for social media and photos. I have the Anker PowerCore 20100mAh and the BESWILL Solar Charger which I leave by the tent during the day.
So that's definitely not going to be enough for you to survive the festival. This is because I'm usually flying from Sydney or New York City so I don't want to carry too much. I actually just wait until I get to Japan and buy the rest of things that I need from Don Quijote (Donki)— an awesome discount store that is everywhere and will have everything you would ever need for anything… anything. 😏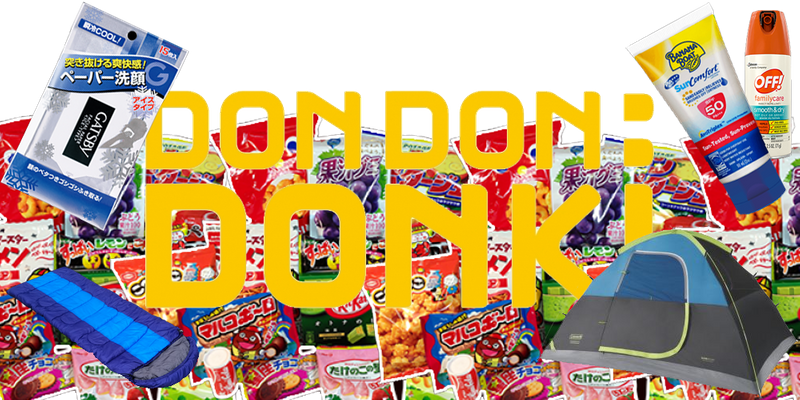 Shopping List:
🏕 Tent. I usually get the cheapest 2 person tent which usually cost less than 5,000 yen.
💤 Sleeping bag. 1,000 yen.
💺 Chair. This is will make or break your festival experience. Unless you're planning on moshing and standing for 4 days, get something to sit on. I usually get a small foldable outdoors chair or an inflatable air couch which can double as a small bag but I'm going with an air couch this year.
☀ Sunscreen. Don't burn.
🐛 Bug Repellent. Don't itch.
💦 Gatsby wet wipes. Don't stink.
🍫 Snacks. Don't starve.
🍻 Booze. Don't be sober. This is completely optional.
🚅 Getting to the festival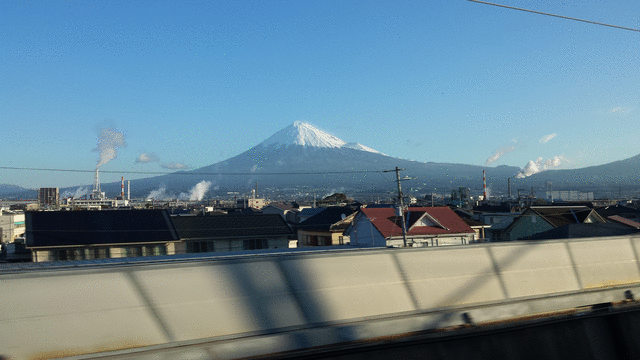 I recommend heading to the festival on Thursday, a day before the event starts. This is the best way to get a decent spot at the campsite that's not a 15 minute hike to the toilets and festival grounds. You also get to take part in the pre-festival events which consist of traditional matsuri style drums and dance, fireworks and the welcome show in the Red Marquee.
I usually go from Tokyo, so I take the Shinkasen from Ueno Station (上野駅) to Echigo-Yuzawa Station (越後湯沢駅) which costs about 6,000 yen. I would recommend that you buy your return ticket if you're confident about making it back to the station on time or if you need to be in places after the festival. The lines to get tickets on the return trip are horrifyingly long.
Once you arrive at Echigo-Yuzawa Station, there will be Fuji Rock Festival signage hanging all over the station. Follow those signs until you find the shuttle buses that will take you to the festival site. This will cost you 500 yen for a return trip, remember to hold on to your return ticket. 🎟
When the bus stops, you'll have to walk about 5 minutes to the entrance of the Fuji Rock Festival. Find the GAN-BAN tent and exchange your confirmation letter for your festival and campsite wrist bands. Don't put it on too tight as it'll be on for a few days.
Now to find your new home base for the next few days.
⛺ Setting up camp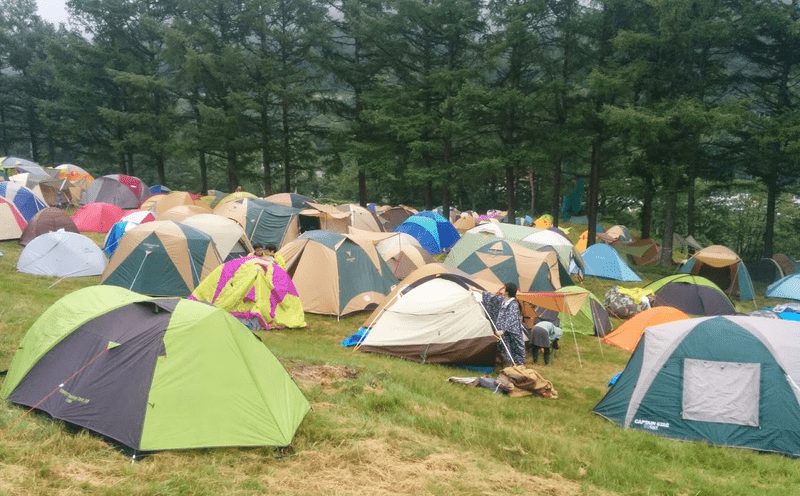 Take a sharp left and end up at the campsite. There will be volunteers that will screaming to see your wrist band, just wave your hand and they'll say "okay, okay". This is to prevent unauthorized personnel, randoms and I guess , thieves from sneaking into the site.
As you walk up the slopes, you'll immediately notice the "female only" section right at the base. If you're female, definitely take advantage of this. If you're male, do not enter and keep walking and find a nice flat patch of grass and pitch your tent.
In terms of security and belongings, it's relatively safe. I don't think I've ever heard of anyone getting their tents raided or stuff stolen. But don't take my word for it, take precautions if you feel like it. I've left laptops, passports, money and cameras in my tent and nothing has ever gone missing.
Once you're done setting up your tent, head into the festival and enjoy the pre-festival celebrations! 🎉
Please note that your tent will be an oven in the morning when the sun rises.
👨‍🎤 Stages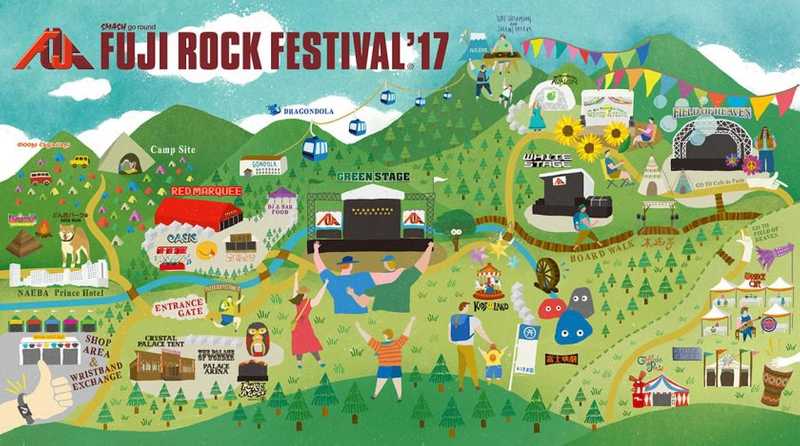 Fuji Rock is divided in two four main areas — Red Marquee, Green Stage, White Stage and Field of Heaven where most of the major headliners will perform on. There are a bunch of smaller areas around too, be sure to check them out when you've got time.
I can't really tell you which stages to go because that'll be up to you to decide based on which acts you want to check out.
🍻 Food & Drinks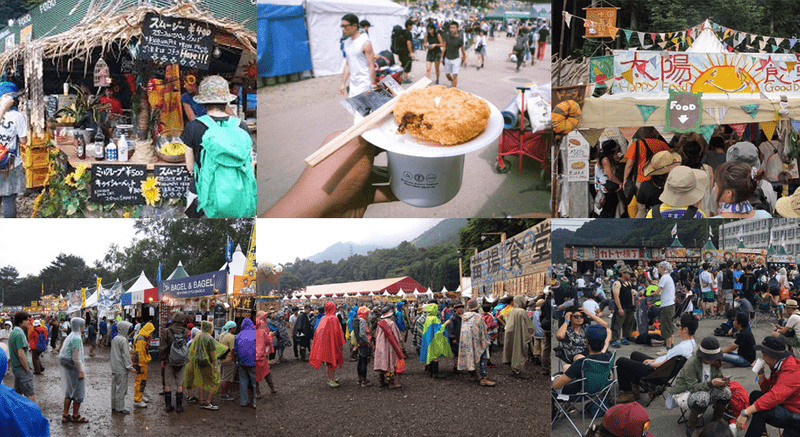 There is so much food at Fuji Rock. You can find cuisines from all over the world so if you craving western food, eastern food or anything in between, they've got you covered.
My favorite thing to eat was chicken and potato. 🍗🥔
🚿 Hygiene
There are communal showers at the base of the campsite. The lines are super long for both genders in the mornings and after the main acts finish.
I would usually hang out at the Crystal Palace until the early AMs before heading back to the camp site to shower. Make sure you have your towel and change of underwear in your day bag so you don't need to walk back to the tent for them.
There's also an onsen there which cost about 100–200 yen. But the lines are always super long so I tend to avoid it. 🤷‍♂️
I once did Fuji Rock without shower and only depending on the Gatsby wet wipe — but I'm just gross like that. 😬
🏠 Going home
Okay, the last show has ended and you've gotten your 3 hours of sleep in your tent. You're hungover and sick of everything at this point. Wake up as early as possible, pack up your campsite and get the hell out of there.
You can throw out your tent, camping gear and trash at the garbage area at the base of the campsite. Please, please, please don't leave your tent pitched and trash on the slopes. The volunteers are well… volunteers, it's super uncool that they have to clean up after your mess. Don't be a dick, alright?
Hop on the shuttle back to Echigo-Yuzawa using your return ticket.
Continue on your Japanese adventure. optional
Go home.
Take a nice long shower.
Do it all again next year! 🙌